It's true that Casper and Saatva both offer exceptional mattresses with well-earned reputations as two of the best in the industry. But once you've narrowed down your mattress search to these two brands, choosing between them can be difficult. Either one is a great choice, and hopefully this guide will help you make the right decision for your bed.
Casper and Saatva are two of the most popular online mattress brands in existence today, selling mattresses predominantly through their respective websites. Founded only three years apart — Saatva in 2011 and Casper in 2014 — both companies have become two of the most recognizable names in the modern sleeping industry. Casper distinguished itself from the start with its uber-cool campaigns and series of noteworthy celebrity endorsements, whereas Saatva took a more understated approach to its marketing, though it steadily built up a loyal following.
Casper also offers four other mattresses: the Casper Hybrid, the Wave Hybrid, the Nova Hybrid, and the all-foam Element.
The Saatva Classic is the company's flagship mattress, but it also offers the Saatva HD, which is designed for people who weigh more than 230 pounds, the Saatva Latex Hybrid, and the Saatva Youth reversible innerspring for children. Saatva also sells other mattresses under different brands, such as the Loom & Leaf memory foam mattress, the Zenhaven reversible latex mattress, and the Solaire airbed. This comparison guide, on the other hand, will focus on Saatva-branded models.
Both the Casper Original and the Saatva Classic are popular flagship models, but they differ in a number of ways. The Casper has a medium feel of about 5 out of 10 thanks to its all-foam construction and famously comfortable memory foam comfort layer. The Saatva, by contrast, comes in two heights and three firmness levels: soft, medium firm, and firm. The Saatva also has a hybrid design, with foam and pocketed coils in the comfort layers and a Bonnell coil support core made from recycled steel.
Casper and Saatva are two of the best mattress companies in the world, and each has its own set of strengths, which is why they're both so popular with consumers. However, we can assist you in making a well-informed choice. Our guide will help you determine which mattress is right for you, so you know what to expect before selecting either the Casper or the Saatva.
---
Construction and Materials Comparison
When shopping for a mattress, you want to feel like your hard-earned dollars are well-spent. Whether it's the Casper or the Saatva, both mattresses are unique in their construction and quality of materials, offering you a level of quality that most other brands on the market don't provide.
Both the Casper and the Saatva mattresses are considered luxury innerspring beds, meaning that they utilize coil-on-coil construction. By using stronger gauge steel in their springs and more coils (Saatva) or high-quality pocket coils (Casper), the respective companies provide a higher level of comfort than a traditional innerspring. Furthermore, each spring is enclosed within a fabric sleeve, giving it an even more durable appearance than traditional coil springs and increasing longevity.
The Saatva and Casper are both comfortable and supportive, with a relatively similar overall feel. The Saatva's innerspring core may not be to everyone's taste, but it can help keep your bed feeling fresh for much longer. The Casper relies completely on conforming to minimize motion transfer between partners, while the Saatva can help by using its coil system.
The main difference between the two mattresses is that the Casper is made entirely of foam, whereas the Saatva is made up of foam, pocketed coils, and an innerspring support core. Aside from that, their various designs demonstrate different approaches to issues such as temperature neutrality, edge support, and more.
We'll go over these differences and what they mean for you in the sections below. We'll go over how each company's flagship mattresses are made, as well as some of the other mattresses they have to offer.
Casper Construction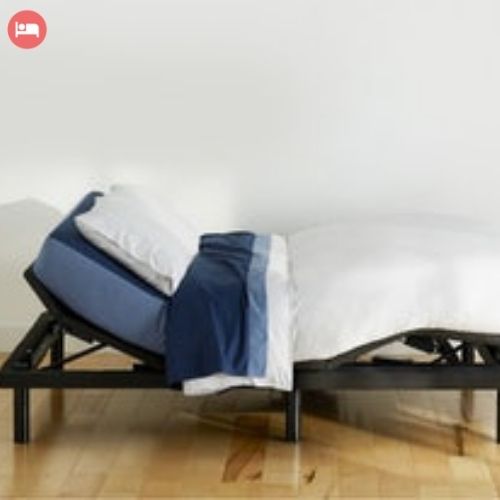 Casper is an all-foam mattress made of both poly and memory foam. Since it is only available in one height and firmness – 11 inches high and medium – the construction does not vary as much as the Saatva's. For this reason, you will get a more consistent feel across the entire mattress.
There is no pillow top on the mattress; instead, it has a soft and stretchy unzippable cover. This cover is made from upcycled cotton and recycled polyester, as well as polyester, rayon, and lycra, which is great for the environment. Casper recommends spot-cleaning rather than removing the cover for cleaning to avoid shrinkage.
The Casper mattress is the perfect sleep set for those looking to transition into a new bed, but that still want to enjoy memory foam. Made with 1.5 inches of polyfoam and 2 inches of zoned memory foam, this mattress will contour to your body and reduce pressure points. The zoned memory foam layer offers targeted compression so that you feel the most relief where you need it. The Casper pillow is perfectly shaped for head and neck support as you sleep. The polyfoam core gives the pillow some responsiveness, while the down alternative insert offers softness and loft.
This mattress feels like sleeping on a cloud, especially because the microfiber top layer covers the entire surface. The sleep surface is softer and more conforming than any other Casper mattress, due in part to the addition of polyfoam in the support core.
The Casper mattress is a high-end, memory foam mattress that uses polyfoam instead of coils to support sleepers. Its design features a 7-inch layer of high-density polyfoam in its support core, along with a small amount of Bonnell coils and air-flow foam for comfort and temperature regulation.
Casper mattress offers consumers an all-foam option for sleep surfaces, in both a 10-inch and 8-inch model. Both Casper models are 10 inches thick, with a 5.5 inch layer of memory foam directly below the cover. The foam is followed by 4 inches of polyfoam, and topped by 3 inches of Bonnell coils.
Casper mattresses come in two styles: the original and the hybrid. The original uses the same type of foam that's been helping Casper customers sleep better for years. But the Hybrid is different. In addition to the all-foam design, it uses pocketed coils encased in high-density polyfoam. These coils add more bounce to the surface and provide added support for sleepers.
The Casper Original and Casper Hybrid aren't the only mattresses available from this company. The Casper Element, a low-cost foam mattress, is also part of their lineup. The Element is 2 inches thinner and uses only ventilated polyfoam in its comfort layer to reflect its lower price.
The result is that the Nova and Wave hybrids have firmer support with a similar level of bounce as the Original Hybrid. However, these are pricier than the original thanks to the pocketed coils and high-density foam perimeter.
Whether you're a back sleeper or a stomach sleeper, the Casper mattress can help you rest easy on any sleeping position. The Wave Hybrid model is available if you want enhanced support and sleep cooler; the Nova Hybrid is softer but still highly supportive. In addition, both models are topped with premium cotton coverings that can be easily removed and cleaned.
Despite their different labels, the Nova Hybrid and the Wave Hybrid mattresses are very similar in terms of firmness. They both feature the same foam in a variety of sizes, giving them similar springiness. The hybrid design also means that they have different firmness levels at different parts of their bodies, with the firmer foam used to provide support where it's most needed. Although these mattresses may be a suitable option for stomach sleepers, back sleepers will likely find that they need a softer mattress by Casper.
Saatva Construction
The Saatva's six model options — three firmness ratings at two heights — make for a more complex design than the Casper.
The Saatva mattress offers the same construction in its comfort layers (featherbed foam and visco elastic foam), though different foams are used depending on your chosen firmness level. The choice of heights translates through the Bonnell coil support core, which is four inches tall in the 11.5-inch model and seven inches in the 14.5-inch version.
The Saatva mattress uses a layer of gel memory foam topped with pressure-relieving high density foam, providing the perfect equilibrium between soft and firm. The Bonnell coil support core of each mattress, along with its individually wrapped coils, provide support from head to toe.
The Saatva mattress is a beauty that has been crafted to provide you with ultimate comfort and relaxation. The soft, medium, and firm mattresses feature a Euro-style pillow top designed for a more comfortable sleep, as well as an integrated, 100-percent organic cotton cover that is breathable and promotes temperature regulation. All three include 0.75 inch of dacron fibers as a base layer, and the soft and medium models also have 1.25 inches of softer polyfoam within the pillow top. The firm model includes 1.5 inches of firmer polyfoam.
The Saatva Mattress is a memory foam mattress with a focus on comfort. The mattress makes use of several very soft comfort materials, as well as 4 inches of 14.5 gauge pocketed coils to provide stability and support. The feel of the mattress can be described as bigger-than-average in both size and weight in the soft range of the spectrum. These act as both a comfort and transitional layer, providing targeted, long-lasting support while also preventing sleepers from sinking into the support core.
The Saatva mattress is constructed with the support core in question made using a Bonnell coil innerspring design. The coil innerspring design is one of the most durable of all spring systems and well suited to performance with regard to edge support and durability under compression. Saatva has added transitional pocketed coils (TPC) which are some of the best coils for motion isolation and pressure relief.
Saatva offers two versions of their Saatva Classic: the Saatva HD and Saatva Youth, in addition to their other lines (Zenhaven, Loom & Leaf, and Solaire).
The Saatva HD mattress has a 15.5-inch length and is firm and supportive. Saatva uses a substantially different construction to achieve this. There are five inches of comfort system, combining Talalay latex, memory foam, and polyfoam. This HD mattress was designed for sleepers over 230 pounds due to its heavyweight construction which provides increased durability and better pressure relief.
The Saatva HD has a 6-inch 12.5-gauge offset coil support core, a 2-inch high-density polyfoam perimeter support, and a 2-inch high-density polyfoam base.
The Saatva Youth Mattress is a quality, affordable option for growing children. The softer mattress side is designed to provide maximum comfort and support for your child from ages three to seven years old. Then, to continue carrying them throughout their growing years (ages eight through twelve), simply flip the mattress over to the firmer side.
Saatva's patented, dual-sided innerspring support core is suspended between two layers of soft, ergonomically zoned polyfoam (for children) and supportive high-density polyfoam (for those approaching their teens). This spring system mitigates motion transfer, enabling the sleeper to enjoy a quieter sleep. Then there's Saatva's bedding: custom covers made from Belgian damask cotton with fully enclosed seams to ensure the utmost in mattress hygiene.
The Saatva Latex Hybrid features pocket coil technology and a memory foam comfort layer to deliver the ideal balance of support and pressure relief. The bed's top layer of Talalay latex conforms moderately to the body but doesn't provide the same "body-hugging" sensation of memory foam. This mattress is built with a coil core for superior bounce, and pocketed coils for greater contour and durability. Owners will notice even more bounciness on the surface than with the Saatva Classic due to the latex's responsiveness. A cover made of organic cotton certified by the Global Organic Textile Standard is included with the Saatva Latex Hybrid.
---
In-Depth Ratings
We grade each mattress in eight different categories as part of our testing process. These cover a variety of important aspects and features to consider when purchasing a mattress, making it easier for sleepers to determine which mattress is best for them.
While both the Saatva and the Casper scored well overall, they each have their own set of advantages and disadvantages in each of these categories. We gathered and compared the grades of each mattress, as well as similar models offered by their manufacturers, to demonstrate this.
Despite its bouncy and responsive nature, the Casper wins this category. The Casper does a better job of absorbing movement and minimizing disturbance across the surface of the mattress because it has a plusher layer of foam on top. For couples, this could be the better mattress.
The supportive coils and additional perimeter coils of the Brooklyn Bedding Signature win out here. While sitting and lying near the mattress's edges, we felt more secure.
The best sex mattress allows partners to easily switch positions. The Brooklyn Bedding Signature and the Casper are both responsive beds, so you should be fine with either one. The Signature's coils may make it even easier to move around.
Both of these mattresses had a small amount of off-gassing at first. This went away after a few days.
This is a nail-biter! Both of these mattresses are constructed of long-lasting materials and are expected to last between 7 and 10 years.
We didn't notice any noticeable noise from either of these beds at the time of our review. However, because the Brooklyn Bedding Signature includes coils, it's possible that these coils will begin to squeak over time.
The Brooklyn Bedding Signature wins because of its coils, which allow for plenty of airflow through the mattress's center. Consider the Casper Hybrid if you prefer the Casper but are concerned about breathability.
Casper
| | Casper Original | Casper Original Hybrid |
| --- | --- | --- |
| Firmness | Medium (5) | Medium (5) |
| Durability | 3/5 | 3/5 |
| Motion Isolation | 4/5 | 4/5 |
| Sex | 3/5 | 3/5 |
| Sleeps Cool | 3/5 | 4/5 |
| Pressure Relief | 4/5 | 4/5 |
| Off-Gassing | 3/5 | 3/5 |
| Ease of Movement | 3/5 | 4/5 |
| Edge Support | 3/5 | 3/5 |
| | Casper Nova Hybrid | Casper Wave Hybrid |
| --- | --- | --- |
| Firmness | Medium (5) | Medium (5) |
| Durability | 4/5 | 4/5 |
| Motion Isolation | 3/5 | 3/5 |
| Sex | 3/5 | 4/5 |
| Sleeps Cool | 3/5 | 4/5 |
| Pressure Relief | 4/5 | 4/5 |
| Off-Gassing | 3/5 | 3/5 |
| Ease of Movement | 4/5 | 4/5 |
| Edge Support | 3/5 | 3/5 |
| | Casper Element |
| --- | --- |
| Firmness | Medium Firm (6) |
| Durability | 2/5 |
| Motion Isolation | 4/5 |
| Sex | 3/5 |
| Sleeps Cool | 3/5 |
| Pressure Relief | 4/5 |
| Off-Gassing | 2/5 |
| Ease of Movement | 3/5 |
| Edge Support | 3/5 |
Saatva
| | Saatva Classic | Saatva HD |
| --- | --- | --- |
| Firmness | Soft (3), Medium Firm (6), Firm (8) | Firm (7) |
| Durability | 4/5 | 4/5 |
| Motion Isolation | 3/5 | 2/5 |
| Sex | 3/5 | 4/5 |
| Sleeps Cool | 4/5 | 5/5 |
| Pressure Relief | 4/5 | 3/5 |
| Off-Gassing | 5/5 | 4/5 |
| Ease of Movement | 4/5 | 4/5 |
| Edge Support | 4/5 | 4/5 |
| | Saatva Youth | Saatva Latex Hybrid |
| --- | --- | --- |
| Firmness | Medium (5), Firm (7) | Firm (7) |
| Durability | 3/5 | 3/5 |
| Motion Isolation | 3/5 | 3/5 |
| Sex | N/A | 4/5 |
| Sleeps Cool | 3/5 | 4/5 |
| Pressure Relief | 3/5 | 3/5 |
| Off-Gassing | 5/5 | 4/5 |
| Ease of Movement | 4/5 | 4/5 |
| Edge Support | 3/5 | 4/5 |
Prices and Sizing
Mattress prices can vary greatly depending on a variety of factors. The first and most important consideration is the bed's construction; while there are exceptions, beds with similar construction tend to be priced similarly. Hybrids, latex beds, and adjustable air beds are on the lower end, while synthetic foam and traditional innerspring beds are on the higher end.
Other factors, however, are also at play. Luxury mattresses, which may include organic, all-natural materials as well as cutting-edge technology, are naturally more expensive than more traditional beds. The quality of the materials and construction also matters, though some low-cost beds are still constructed with care and high-quality materials.
In addition, inexperienced shoppers may be attracted by the lower prices on less-popular beds. The price of a bed can also be affected by factors unrelated to the bed itself. As an example, companies with extensive marketing may pass those costs onto consumers, while companies with little marketing may be less popular but cheaper.
Finally, the price of a mattress is almost always determined by its size and height. Of course, this is in the context of a king-size mixed-foam mattress costing significantly less than a twin-size adjustable air bed.
Casper
| | Casper Original | Casper Original Hybrid |
| --- | --- | --- |
| Twin | $595 | $695 |
| Twin XL | $695 | $795 |
| Full | $995 | $1,195 |
| Queen | $1,095 | $1,295 |
| King | $1,295 | $1,495 |
| California King | $1,295 | $1,495 |
| Split King | – | – |
| Split California King | – | – |
| | Casper Nova Hybrid | Casper Wave Hybrid |
| --- | --- | --- |
| Twin | $1,195 | $1,595 |
| Twin XL | $1,345 | $1,795 |
| Full | $1,895 | $2,495 |
| Queen | $2,095 | $2,695 |
| King | $2,395 | $3,095 |
| California King | $2,395 | $3,095 |
| Split King | – | – |
| Split California King | – | – |
| | Casper Element |
| --- | --- |
| Twin | $395 |
| Twin XL | $445 |
| Full | $545 |
| Queen | $595 |
| King | $795 |
| California King | $795 |
| Split King | – |
| Split California King | – |
Saatva
| | Saatva Classic | Saatva HD |
| --- | --- | --- |
| Twin | $849 | $1,499 |
| Twin XL | $1,049 | $1,649 |
| Full | $1,399 | $1999 |
| Queen | $2,095 | $2599 |
| King | $1,899 | $2899 |
| California King | $1,899 | $2899 |
| Split King | $2,098 | $3298 |
| Split California King | $2,099 | – |
| | Saatva Youth | Saatva Latex Hybrid |
| --- | --- | --- |
| Twin | $699 | $1,099 |
| Twin XL | $799 | $1,249 |
| Full | $899 | $1,599 |
| Queen | – | $1,799 |
| King | – | $2,199 |
| California King | – | $2,199 |
| Split King | – | $2,499 |
| Split California King | – | – |
These tables show that Saatva and Casper follow mattress price trends, with the innerspring hybrid Saatva costing more than the all-foam Casper. The Saatva, on the other hand, is slightly less expensive than average for an innerspring hybrid (though more expensive than average for an innerspring), while the Casper is more expensive than average for an all-foam bed.
The Saatva is much less expensive than the Casper Nova and Wave hybrid mattresses. This is to be expected, given that it is not a true hybrid (the pocketed coils are part of the comfort system rather than the support core). The Saatva HD, on the other hand, costs more because of its natural Talalay latex and thick profile. The price of the Saatva Latex Hybrid is comparable to that of other hybrid models. This mattress is a good mid-range compromise between the Saatva Classic and the Saatva HD, which are both budget-friendly.
The Casper Element offers much of the appeal of the Casper Original at a lower price for sleepers on a budget. However, this results in a slimmer profile and a less durable design, which is a common tradeoff with low-cost options.
Because of its unique appeal and small size, the Saatva Youth is an outlier. When viewed as a flippable mid-range innerspring, however, its cost is about average.
---
Shipping, Trial and Warranty
Shipping
Casper mattresses are delivered across the United States and Canada. It's free to ship within the contiguous United States and most of Canada, but there are fees for Hawaii, Alaska, and Canadian territories. Most customers receive their mattress within two to five days of purchase, thanks to UPS Ground shipping. In New York City, Los Angeles, and San Francisco, same-day courier deliveries are available.
Saatva provides free shipping to the contiguous United States and parts of Canada. Customers can set a four-hour delivery window for themselves, with no cancellation fee if they cancel before the delivery day. (An adult must be present at the time of delivery.) You should expect to wait seven to eighteen days after purchasing your new bed, depending on where you live.
White Glove Delivery
Casper arrives compressed and rolled in a box, making it easier to transport throughout your home and into your bedroom. White Glove delivery is available from both Casper and Saatva for those who would rather have someone else do the heavy lifting and set-up. This option entails having a group of people deliver your new mattress, set it up the way you want it, and remove your old mattress for disposal if necessary.
For king or California king size Wave Hybrid mattresses, Casper offers free White Glove delivery within the contiguous United States. For other Wave Hybrid sizes and Casper models, this service is available for an additional fee.
Sleep Trial & Returns
Most online mattress retailers offer sleep trials, which allow customers to test out a mattress before deciding whether or not they want to keep it. These trials are extremely valuable because it can take up to a month to adjust to a new mattress.
Casper offers a 100-night sleep trial. There is no initial break-in period, and customers can return their bed for a full refund at any time during those 100 days, including any shipping fees but excluding White Glove delivery fees. Returning your bed is free, and there are no additional shipping charges: Casper will arrange for your mattress to be picked up by couriers for disposal or donation. The sleep trial is also available for customers who purchase Casper through Amazon.com. Returns are not possible after the trial period has ended.
With no break-in period, Saatva offers a 180-night sleep trial. Customers who return their mattress during the trial period will receive a full refund minus a $99 shipping fee. The ability to return the mattress for a change in size, firmness, or height is one of Saatva's standout features; customers only have to pay the difference (if any) and a $99 shipping fee. Saatva, like Casper, will dispatch couriers to collect your returned mattress for disposal or donation. Returns are also not possible after the sleep trial has ended.
Warranties
Mattress warranties offer peace of mind in the event of flaws or defects in the manufacturing process, but they rarely cover normal wear and tear or damage caused by the owner. Most mattresses on the market come with a warranty, though the length and terms of the warranty vary by manufacturer.
With their warranties, Casper and Saatva address similar issues. Both policies cover foam impressions that are more than one inch deep, as well as flaws and defects in the manufacturing process. Both warranties are void if you do not provide an appropriate foundation for your bed, as well as if you sell or give away your mattress. However, the terms and duration of their warranties are different.
Casper provides a non-prorated 10-year warranty. Casper will repair or replace your mattress if it develops any of the covered problems within ten years of purchase. Customers are responsible for the cost of shipping their mattress back to them, but they will cover return shipping fees.
The length of the Saatva warranty is determined by the model chosen. The Saatva Youth is covered by a 12-year warranty, while the Saatva Classic and Saatva Latex Hybrid are covered by a 15-year warranty and the Saatva HD is covered by a 20-year warranty. During the first two years of ownership, the company will repair or replace any defective mattress at no additional cost. Owners must pay a $99 transportation fee each way after that, but repairs and replacements remain free.
The 'Fairness Replacement Option,' offered by Saatva, is a second option for mattress owners. During the first two years of this agreement, Saatva will continue to repair and replace mattresses at no cost to the owner. Owners must pay a percentage of their bed's original sticker price starting in the third year. The percentage will gradually increase from 40% to 80% over the remaining warranty coverage period, depending on how long it has been since the mattress was purchased. Owners can keep their original mattress in addition to the replacement bed as part of the Fairness Replacement Option.