Finding the right mattress can be hard to do and it is also a very big purchase that can greatly affect your day-to-day life. Thankfully there are many options available today and we hope that our comparison between Tuft & Needle and Leesa helps you to make the right decision!
Leesa mattress and Tuft & Needle mattresses are both online companies, born in the 2010s, who have expanded to brick-and-mortar retail and developed a reputation for creating comfortable mattresses at competitive prices.
Both Tuft & Needle and Leesa mattresses are manufactured in the US. Tuft & Needle mattresses are constructed in Phoenix, Arizona, while Leesa mattresses are made in Tennessee. Both brands have their own factories and hire local workers. However, Leesa has a slightly larger number of jobs per mattress sold than Tuft & Needle.
Finding a mattress that's the right fit for your sleeping style and personal preferences can be a tough task, so here's a closer look at what makes the Leesa and Tuft & Needle so different.
Leesa
Tuft & Needle
Price Range(Queen)
$999-$2,499
$595-$1,495
Firmness Options
Medium (5), Medium Firm(6)
Medium (5), Medium Firm(6)
Standout Features
Two foams, including memory foam, in comfort system
Mixture of pressure relief and responsiveness
Cover made with recycled plastics (Leesa Legend)
Unique Adaptive Foam provides balance of contouring and bounce
Quality temperature regulation for all-foam models
Customer-friendly price point and sleep trial
Models
Leesa
Leesa Hybrid
Leesa Legend
Tuft & Needle
Mint
Tuft & Needle Hybrid Mattress
Sleep Trial & Warranty
100-night trial (with return shipping fee)
100 Nights Sleep
10 year, Limited
10-year warranty
Customer Service
A+
A+
Sizing Options
Understanding mattress size is key to choosing the right one. This is especially true when you're getting a new mattress, and when you're shopping online. Knowing dimensions helps you understand how big it will be, and the dimensions of your bed frame or other furniture that will ultimately house your mattress.
Leesa
| | | |
| --- | --- | --- |
| Model | Size Option | Height |
| Leesa | Twin, Twin XL, Full, Queen, King, California King | 10" |
| Leesa Hybrid | Twin, Twin XL, Full, Queen, King, California King | 11" |
| Leesa Legend | Twin, Twin XL, Full, Queen, King, California King | 12" |
Tuft & Needle
| | | |
| --- | --- | --- |
| Model | Size Option | Height |
| Tuft & Needle | Twin, Twin XL, Full, Queen, King, California King | 10" |
| Mint | Twin, Twin XL, Full, Queen, King, California King | 12" |
| Tuft & Needle Hybrid | Twin, Twin XL, Full, Queen, King, California King | 12" |
---
Leesa and Tuft & Needle mattresses are similar in their dimensions.
In terms of weight, hybrid models from both brands weigh much more than foam options.
All of the mattresses offered by Tuft & Needle and Leesa are between 10 and 12 inches tall, and none will pose a problem with regular fitted sheets.
Neither company uses the standard mattress sizes, so all of their products are available in these measurements. The only exception is the Leesa Legend, which is available only as a Twin XL.
Leesa vs. Tuft & Needle mattresses are the best of the best when it comes to quality, comfort and price. Both feature premium foam and materials that feel great to sleep on, and both are among the best in the industry—just see the hundreds of 5-star reviews on Amazon for proof!
---
Construction and Materials Comparison
When you're shopping for a mattress, it's important to check out what it's made of and learn about the materials responsible for its texture and support. Typically, there will be two different layers found within the mattress. The first is a comfort system that softens the surface. The second is a support core that stabilizes the surface while also providing shape and structure to the mattress. When these two layers work together, they can provide you with a great sleeping experience.
Mattresses are really like miniature pieces of furniture – inside they all have what's called a "comfort system" and "support core". The two parts function together to provide comfort, support and durability.
A mattress with a well-made support core plays an integral role in the feel of the mattress. Sleep Number, using its Airflex™ technology, is one of the few companies that builds the support core on two levels – one level with alternating chambers and one with self-adjusting technology that responds to each sleeper's body type individually. Both layers of support systems work together to enhance the feel and performance of our mattresses.
The following sections examine the Leesa and Tuft & Needle mattresses' construction and what it means for consumers.
Leesa
Leesa Mattresses. The Leesa is an all-foam mattress with a smooth top and firm feel to support the body and relieve pressure points.
Leesa Original
Leesa's Original offers a medium level of support that is softer than our Hybrid models. We use a special blend of polyfoam, memory foam, and supportive polyfoam to give you a bed that contours to your body while still offering the support you need for a healthy, restful sleep. Learn more about Leesa's Original mattress.
The Leesa combines the bounce of a traditional innerspring mattress with the body-contouring support of memory foam. It features strong edges to reduce motion transfer, three layers of foam that adapt to your every move, and two adjustable layers that provide customized comfort. The cover is made from stretchy polyester blends and a top layer of ultra-soft knit.
Leesa Hybrid
Leesa's Hybrid mattresses feature three distinct layers—a top cover, comfort system, and support core. Each layer provides a different yet important contribution to the Leesa experience. Inspired by the best of traditional innerspring and memory foam mattresses, the Leesa Hybrid combines these two technologies in a single mattress with uniformly supportive comfort.
The cover of the Leesa Hybrid is crafted from ultra-breathable cotton fabric woven with moisture-wicking fibers designed to wick away heat and moisture from your body and keep you cool when you're sleeping.
The Leesa Hybrid uses the same high-quality foam and cover material as the Original, but with a support core that offers more support and a bit more bounce to elevate all night comfort. As a result, the Hybrid is ideal for sleepers who prefer an elevated feel (like in a traditional mattress), as well as those who change positions throughout the night.
The Leesa Hybrid mattress makes the move to a hybrid foam mattress as smooth as possible. With an innovative advanced coil support system and an improved design that is update for 2016 so it incorporates a thicker comfort layer, the Leesa Hybrid has everything you love about the original Leesa and more. The Leesa Hybrid is made of high quality foam, high-density polyfoam, and a foundation of coils. This unique combination provides a balanced feel that allows for breathability and airflow while relieving pressure.
Leesa Legend
The Leesa Legend is the company's high-end model. Its cover is specially designed, utilizing polyester, recycled PES made from plastic bottles, organic cotton, merino wool, rayon, and spandex. Combined, the cover is stretchy, moisture-wicking, and helps combat plastic pollution.
The Legend is an entirely different type of mattress. Its unique design features an aerated latex-like layer, paired with responsive coils in the top third that seamlessly integrate with a thicker memory foam layer, allowing for greater support and comfort of the hips and shoulders. The combination of fiber, latex foam, and coils work together to provide pressure relief, but not motion isolation.
Tuft & Needle
Tuft & Needle's product line consists of two all-foam mattresses and one hybrid.
Components in All Tuft & Needle Mattresses
T&N Original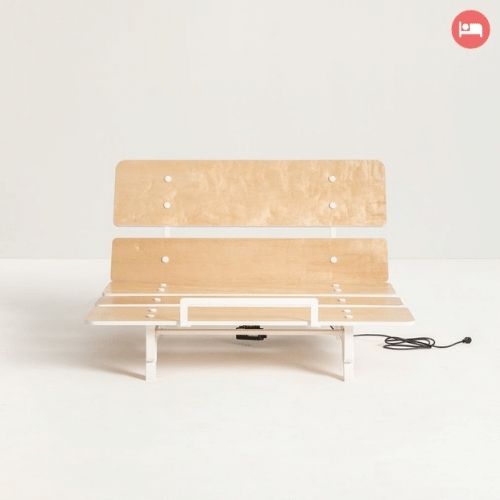 The Original Series mattress offers medium firm support and is the first choice for a more natural night's sleep. The three inches of Adaptive Foam on top of seven inches of a high-density polyfoam support core create the ideal balance between comfort and support. The design is simple, but effective: each layer has been tailored to offer the optimal level of support given its location on the bed. This helps reduce pressure points and ensures your body never loses its natural alignment while you sleep.
Mint Mattress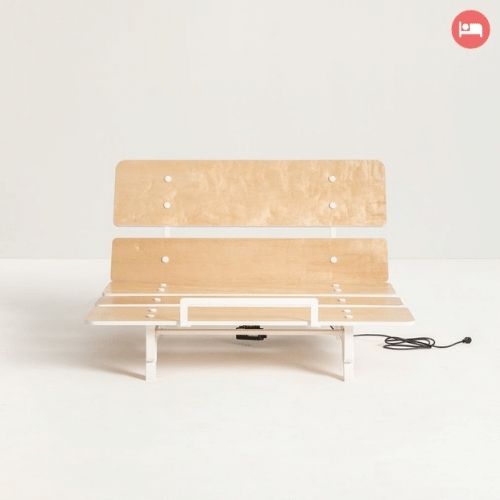 The Mint feels very close to the Original, with one main difference that makes it a touch more comfortable. The additional layer of Adaptive Foam provides slightly more responsiveness and bounce that was missing from the original. This works well for couples if one person needs a softer sleeping surface. The most noticeable thing about the Mint is its extra thickness throughout the topper. It's a few inches thicker than the Original and makes it more comfortable as a bed that you can sink into.
The Mint also uses a breathable air flow technology that increases airflow into the mattress, helping to create the optimal sleeping temperature. This does mean you'll be warmer than in most memory foam products, but if you're sensitive to heat anyway then this is good news! It also supports a more organic sleeping experience by eliminating both odor and motion transfer. You won't notice your partner moving around as much while you sleep on the Mint (although this can also be a bad thing if they are snoring!).
T&N Hybrid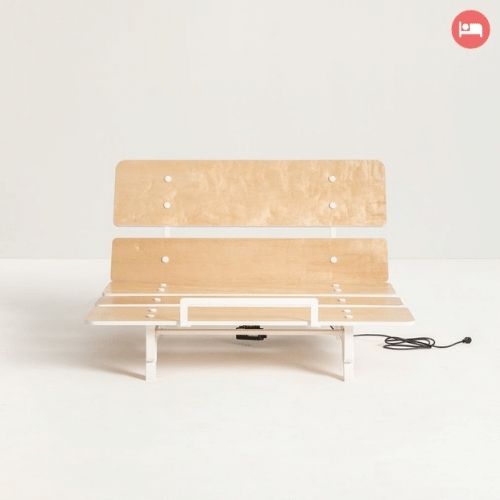 The Tuft & Needle Hybrid mattress succeeds in creating a balance of comfort and support for sleepers of all styles. Like the Original mattress, the Hybrid is perhaps not as supportive as heavier or firmer hybrid mattresses but is more comfortable than a lot of competition. While this bed may not be for everyone, it's a good pick for those who want something similar to a coil mattress but with additional layers designed to improve comfort.
The Tuft & Needle Hybrid has the same cover and Adaptive Foam top layer, but the rest of its design differs markedly from the Original and Mint. Underneath the Adaptive Foam is a thin layer of micro-coils that boost the springiness of the bed. The last element of the comfort system is a layer of transition polyfoam. The support core is made with individually-wrapped innerspring coils.
The mattress has a very comfortable and bouncy feel thanks to the coils. The coils are fairly soft for an innerspring mattress, so it's a good choice for side sleepers. Plus, the mattress is made with no-flip design to help prevent sag and wear-and-tear over time. Overall, if you like the feel of a coil spring mattress but need more pressure relief than most traditional models can offer, this is a good match for you.
---
Average Customer Ratings
Mattress companies often make sweeping claims about the benefits of their products. Customer reviews are a valuable tool to sort out what's real and what's not.
When evaluating customer reviews, a few important factors ought to be kept in mind.
---
Leesa
| | |
| --- | --- |
| Model | Average Rating |
| Leesa | 4.5/5 |
| Leesa Hybrid | 4.5/5 |
| Leesa Legend | 4.9/5 |
Tuft & Needles
| | | |
| --- | --- | --- |
| Model | Average Rating | |
| T&N Mattress | 4.6/5 | |
| Mint Mattress | 4.6/5 | |
| Tuft & Needle Hybrid Mattress | 4.6/5 | |
---
In-Depth Ratings
As you know, there are hundreds if not thousands of mattresses to choose from. That abundance can be a bit overwhelming especially when looking at Tuft & Needle vs Leesa and other best mattress for side sleepers options on the market. With so many choices, it's hard to know which attributes matter and which don't.
The motion transfer from a bed is a lot like the ripples spreading over a pond when you drop a stone into it. People move around during the night, tossing and turning and crawling out of bed for water or bathroom visits. While some is inevitable, the more you can do to isolate your sleeping self from this movement throughout the night, the better.
Pressure relief comes in the form of support. Having enough contouring and padding to suit your body shape needs to be at the forefront of your mind when you're looking at a mattress. Some mattresses can be shaped using zone foam. This means that it's possible for you to feel the perfect level of cushioning all over your back as opposed to one or two pressure points. If you've struggled with lower back pain in the past, finding a mattress with the right amount of support is crucial. If you sleep on your side, it's likely that your hips are wider than your shoulders, which is why there are mattresses on the market created to specifically target pressure points in this area.
One of the best ways to effectively regulate temperature is through breathable, moisture-wicking materials. Cooling gel is a popular feature, but while it does absorb heat, it doesn't wick moisture. It is one of the tools used in mattresses targeted at hot sleepers as well as extra firm models designed for all types of sleepers that can retain heat, but the surface material around the gel still has to wick away sweat effectively for you to feel cool.
The materials and construction of a mattress can also impact edge support. More durable and firmer foams like latex, polyfoam, and direct-manufactured polymers are more likely to resist sagging and collapse at the edges. Lower density materials may have extreme softness, but may also sag or collapse near the edge, especially during sex. Firm, thick coils and pocket coils allow for better edge support since their sections can provide support in the same way perimeter foundation springs do.
Combination sleepers (who switch between sleeping on their side, back, and stomach) and others who like to reposition during the night want to be able to move easily on top of the mattress. Materials with more responsiveness, like latex and innerspring coils, usually pose fewer barriers to moving on the bed.
Sex and sleep are significant aspects of our lives. When it comes to a healthy sex life, it's important to have a mattress that is conducive to intimate activities. There are several different types of mattresses that enhance intimacy, with each type providing its own benefits.
Some new mattresses give off a smell from volatile organic compounds (VOCs) created during the manufacturing process. This happens most often with foam, especially when it's compressed and shipped as a bed-in-a-box. The smell doesn't cause any risk to health, but it can be annoying and off-putting for people who are sensitive to smells. There's not much you can do about mattress manufacturing processes, but there are some things you can do after you get it in your home.
---
Leesa
| | Leesa | Leesa Hybrid | Leesa Legend |
| --- | --- | --- | --- |
| Firmness | Medium (5) | Medium Firm (6) | Medium Firm (6) |
| Durability | 3/5 | 3/5 | 4/5 |
| Motion Isolation | 4/5 | 3/5 | 4/5 |
| Sex | 3/5 | 4/5 | 4/5 |
| Sleep Cool | 3/5 | 4/5 | 4/5 |
| Pressure Relief | 4/5 | 4/5 | 4/5 |
| Off-Gassing | 3/5 | 3/5 | 3/5 |
| Ease of Movement | 3/5 | 4/5 | 4/5 |
| Edge Support | 2/5 | 4/5 | 3/5 |
Tuft & Needle
| | T & N | Mint | T & N Hybrid |
| --- | --- | --- | --- |
| Firmness | Medium (6) | Medium Firm (6) | Medium (5) |
| Durability | 3/5 | 4/5 | 3/5 |
| Motion Isolation | 4/5 | 4/5 | 3/5 |
| Sex | 3/5 | 3/5 | 4/5 |
| Sleep Cool | 4/5 | 4/5 | 4/5 |
| Pressure Relief | 4/5 | 4/5 | 3/5 |
| Off-Gassing | 3/5 | 3/5 | 4/5 |
| Ease of Movement | 4/5 | 4/5 | 4/5 |
| Edge Support | 2/5 | 3/5 | 4/5 |
---
In-Depth Pricing
Mattress price tags can vary widely, leaving many consumers questioning what actually makes a mattress cost so much. At Mattress Clarity, we aim to break down these ideas of value and provide a more transparent look at the wide range of the mattress market. So that everyone can make an informed sleep decision.
The price of a mattress is one of the most important factors that shoppers use to evaluate which product to buy. In fact, according to recent research, a whopping 72% of shoppers make their purchase decisions based on price alone.
Various factors can influence the price of a mattress:
The total profile, the number of layers, and the composition of those layers
The quality and source of the materials
Whether it has any special features or components (such as proprietary or organic materials)
Whether it's made in the USA or overseas
How it is shipped and if delivery is included
If you're in the market for a new mattress, shopping online can offer numerous benefits. For example, you can often get free shipping and returns, as well as same-day delivery for mattresses with flash sales.
Leesa and Tuft & Needle offer mattresses at various price points. Using the tables below, you can compare their retail prices for all of their models in each of the standard mattress sizes.
Leesa
| | Leesa | Leesa Hybrid | Leesa Legend |
| --- | --- | --- | --- |
| Twin | $599 | $999 | – |
| Twin XL | $699 | $1,099 | $1,999 |
| Full | $899 | $1,399 | $2,299 |
| Queen | $999 | $1,699 | $2,499 |
| King | $1,199 | $1,899 | $2,999 |
| California King | $1,199 | $1,899 | $2,999 |
| Split King | $1,199 | $1,899 | $2,999 |
Tuft & Needle
| | T & N | Mint | T & N Hybrid |
| --- | --- | --- | --- |
| Twin | $350 | $595 | $895 |
| Twin XL | $395 | $645 | $995 |
| Full | $495 | $845 | $1,295 |
| Queen | $595 | $995 | $1,495 |
| King | $750 | $1,145 | $1,745 |
| California King | $750 | $1,145 | $1,745 |
| Split King | $750 | $1,145 | $1,745 |
Tuft & Needle clearly has a major advantage over Leesa for shoppers on a tighter budget. Both brands offer exceptional values, but Tuft & Needle has a lower price point.
The Original Tuft & Needle mattress is by far the most affordable option from these two companies. Even at its sticker price, it is affordable for most mattress shoppers, and it's one of the best values in the industry. However, in many cases, it's offered with discounts and promotions, so it's an increasingly compelling alternative for budget shoppers.
The Leesa Original and Tuft & Needle Mint both have the same price tag. Both are similarly priced to other foam mattresses on the market; however, the Mint has a taller profile and a thicker comfort system than the Leesa Original.
In the same vein, the Tuft & Needle Hybrid and Leesa Hybrid are within the same price class, but the Tuft & Needle has a slight price advantage. Discounts are frequently available to make these more wallet-friendly.
The Leesa Legend is the most expensive mattress from either company. It was designed for luxury, which is evident from its price tag. It may exceed a more limited budget, but it is often considered by luxury mattress shoppers because of its value.
Trials, Warranty and Delivery
If you're choosing between Leesa and Tuft & Needle, the chances are you're shopping online. If this is your first time buying a mattress online, you may be wondering what the logistics are, especially in terms of shipping, returns, and warranties.
The next three sections provide information on these topics and how they apply to these two brands.
Shipping
Mattresses can be shipped in two ways: bed-in-a-box and White Glove delivery.