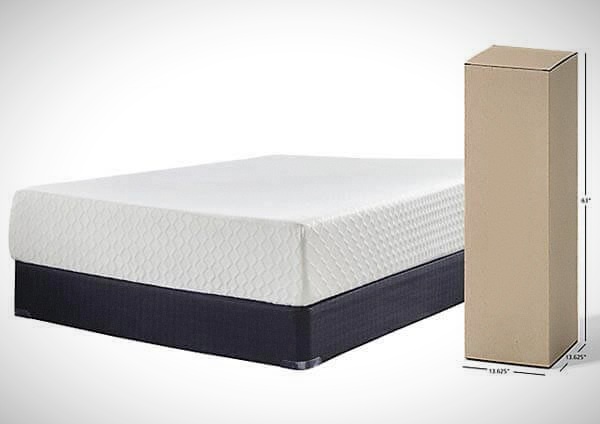 A mattress in a box (or bed in a box) is a mattress that has been compressed to fit within a box using heavy machinery.
Buy a bed online. From your home. In a box. We're talking about buying a mattress online from your home and having it delivered to you in a conveniently sized box. This takes the hassle out of traditional mattress shopping and is a lot less costly. This is because you are buying directly from the manufacturer, avoiding the need to pay for costly extras and physical stores that add to the cost of your mattress.
---
Why buy a mattress in a box?
Buying a mattress in a box sounds like an innovative idea. They offer you the advantages of online shopping – the convenience, time and cost effectiveness – but come delivered in a mattress bag. Contained on a small roll of plastic they can be rolled into your car, home or even stored under your bed until you're ready to use it. The benefits are obvious. Why spend hours traipsing round a high street mattress store? Why pay delivery costs when you can get a memory foam mattress delivered to your door for less than £100?
---
What Kind of Mattresses Are Sold In Boxes?
With the development of the roll pack machine, most mattress types can be compressed for shipping in a box. Three of the most popular types for everyday use are:
Memory foam mattresses (which typically come with a soft comfort layer of memory foam and a firmer polyfoam core)
Latex (which is made of latex: it could be organic, natural, or synthetic)
hybrid mattress (has a coil support system and a foam comfort layer that could be latex or memory foam)
Each of these mattress types has its pros and cons, and many people will find a mattress within this range that is right for them. My experience in shopping for mattresses online indicates that memory foam mattresses are the most common and very popular.
---
What are the Benefits of a Bed in a Box?
Mattresses in a box make the mattress buying process simple, allowing you to find the perfect mattress for you without the hassle or expense of in-store shopping.
Why Are They So Cheap?
A high quality mattress in a box is often as comfortable as the brands you're familiar with at your local mattress store. You can get an excellent quality "bed-in-a-box" mattress from $600-$2000 depending on the materials (organic latex mattresses tend to be more expensive, memory foam mattresses tend to be cheaper). This is much less expensive than you would expect to pay for a top quality mattress.
The companies that sell beds in boxes sell directly to you online. Stores don't have overhead to pay, and sales people don't have to be paid. By selling directly to you, they remove a whole layer of cost that is usually built into the price of a mattress when you try it on in-store. Many companies offer 100-365 night sleep trials because they are confident in the quality of their mattresses. They know you will love it and not want to return it!
---
How Does a Bed in a Box Work?
You've heard of bed-in-a-box companies (e.g., Casper and Leesa) — but how does their mattress actually get into a box? This question always seems to be the big one at the top of people's minds, since this advanced compression technology is still relatively new and confusing.
The bed in a box mattresses are made from the highest quality memory foam. A state-of-the-art, automated compression process is used to compress the mattresses into a size that can be shipped in a box small enough to undergo standard shipping methods. Once unpacked, their unique foam structure allows the compressed, rolled mattresses to expand into their original shape.
---
How Do I Use My Mattress In A Box?
You simply follow these simple steps to get the most out of your mattress:
When you receive it, open it to expand as soon as possible (leaving the mattress in its box for more than a few days can lead to decompression issues where the mattress does not expand evenly – if this were to happen, you would get an instant replacement)
Ventilate the area where the mattress is expanding to get rid of any odor (most mattresses will have a slight odor from the packaging and from the materials expanding, this is normal and harmless).
Protect your mattress with a breathable mattress cover (this will keep it clean, which you must do in order to qualify for warranty coverage, and allow you to get the most out of the technologies within your mattress: a non-breathable protector could negate any cooling property of your mattress.)
Rotate your mattress regularly so it wears evenly and it lasts as long as possible
If you have any problems, don't be afraid to contact the company you bought it from. Some people complain that they can't return a mattress because it doesn't fit back in the box. This isn't the case at all. If you need to return your mattress within its trial period, the company must assist you with that.
---
Lots Of People Enjoy Buying Beds In Boxes
Mattress in a Box is a fun way to get the mattress you want without the hassle of actually going to the store! People have lots of fun with their beds in boxes. It is usually cheaper than a mattress you bought in a store, and it can also be more comfortable. Many mattress in box companies use high-quality materials to make their mattresses, but you get a great price because the company isn't required to maintain an actual store.