A hybrid mattress type marries the dependable features of an innerspring unit with enhanced comfort features from foam and latex. The result is a hybrid mattress that's equal parts pressure relief, bounce, edge support, and temperature regulation. Like its component parts, the way any specific hybrid performs in these areas is influenced by its construction, leading customers to choose from a diverse list of options to find the model that best meets their needs.
Not too long ago, we published a comprehensive list of hybrid mattress reviews and buyer's guides. But given the number of new hybrids in the market these days, it's time to update that post with our latest best hybrid mattress picks in 2021. First, let's examine what a hybrid mattress is, and how those features can improve sleep quality for a variety of sleeping types.
---
The Best Hybrid Mattresses – Unbiased Evaluation
---
---
Product Details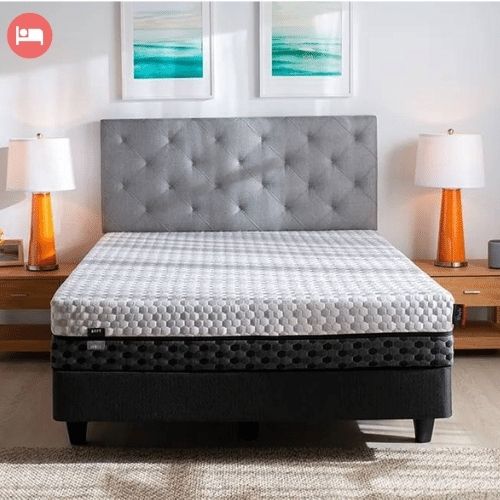 Best Hybrid for Side Sleeper
Layla Hybrid
Layla is one of the best hybrid mattress that allows sleepers to personalize their comfort with two firmness levels in one seamless mattress. The medium side conforms to every curve of the body while its low-density memory foam relieves pressure points by creating a soft, enveloping blanket for ultimate sleep quality. The firm side meets the needs of larger sleepers and those who enjoy sleeping on a sturdier foundation.
The Layla Hybrid mattress is a bed built for everyone. Its patented flippability provides two firmness levels in one mattress, helping to make it the perfect match for a diverse range of sleepers across all sizes and preferred sleep positions.
Well rested is a matter of preference. Some people like the feeling of being hugged, while others prefer to remain free from contact. Layla Hybrid offers sleepers two firmness levels in one bed – both medium and firm. This flexibility enables the bed to suit a diverse range of sleepers across all sizes and preferred sleep positions. The firm side is more popular among heavier sleepers, who experience better spinal alignment and support for their hips and shoulders with a thinner comfort layer, while sleepers below 230 pounds appreciate the deep pressure relieving cradle of the medium side.
For consumers who live in the contiguous U.S., Layla delivers free delivery and backs the mattress with a 120-night sleep trial.
---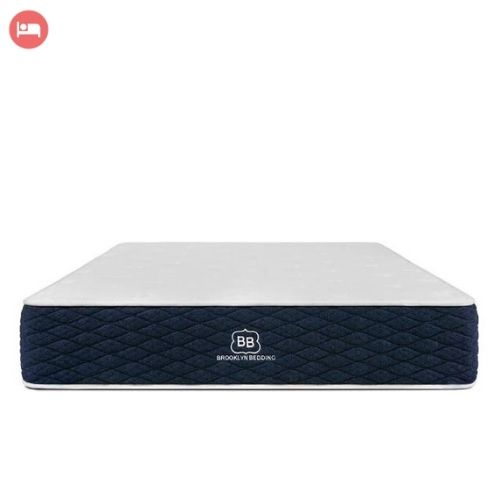 Best Luxury
The Brooklyn Bedding Aurora is one of the most technologically advanced hybrid mattresses on the market. Boasting an innovative design with impressive construction, this mattress achieves the best qualities from both memory foam and pocketed coils.
The combination of a copper infused memory foam comfort layer, quilted with microcoils over a thicker polyfoam support core, makes for a very comfortable sleeping experience that contours well to body weight while providing good bounce and edge support.
The Brooklyn Bedding Aurora is one of the best hybrid mattress that combines the pressure relief of memory foam with the durability and bounce of pocketed coils. Its copper infused top layer cools the sleeper and provides a supportive surface for sleeping. The bottom layers provide a closely conforming responsive feel. The three firmness choices will suit most sleepers, especially back and stomachs who need extra support in a dense mattress.
In the industry, Brooklyn Bedding has a legacy dating back over two decades, making them a more established reputation than many rivals. For all their mattresses, including the Aurora, the brand offers a 120-night sleep trial and a 10-year warranty.
---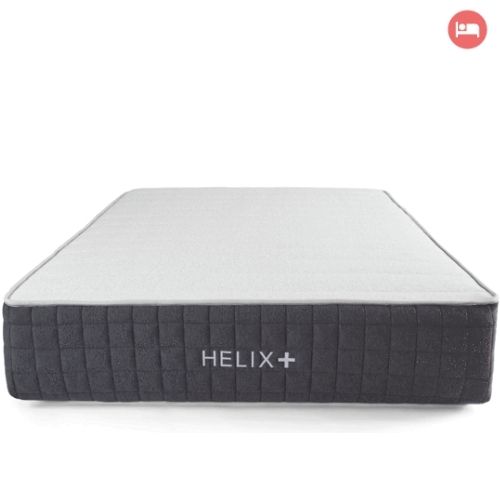 Best Overall
Helix Midnight
The Helix Midnight hits a sweet spot for most sleepers, but especially side sleepers and combo sleepers up to about 230 pounds. Side sleepers need the coils to keep them from sinking into a memory foam mattress, so the transition foam beneath the coils is an important feature. Plus, the soft top layer helps relieve pressure on your shoulders and hips while contouring to your body. If you weigh more than 230 pounds, you'll likely find this hybrid too thin and firm, but if you're under that weight, it could be just right. If you see it in person before buying, make sure it feels soft enough for you and try moving around on it to see how much support it gives you.
Helix has an extensive product line, and the Helix Midnight, with its crowd-pleasing design, price, and firmness feel, is one of their most popular offerings.
The construction of the Helix Midnight is detailed from head to toe, but here are the highlights:
First layer: 100% polyester cover. It is about 79" long and 43" wide. The material feels soft, smooth, and is relatively thin and lightweight.
Second layer: Patented DRY-TEC memory foam (1.5" thick). This material is made using a special process that allows it to be more breathable than traditional memory foam.
Third layer: Transition Support Foam (4" thick). This material has a supportive feel without being too firm or using too much memory foam.
Fourth layer: Pocketed coils with blended polyfoam base (8" thick).
A 100-night risk-free sleep trial arrives with the Helix Midnight and is covered by a 10-year warranty covering mattress defects.
---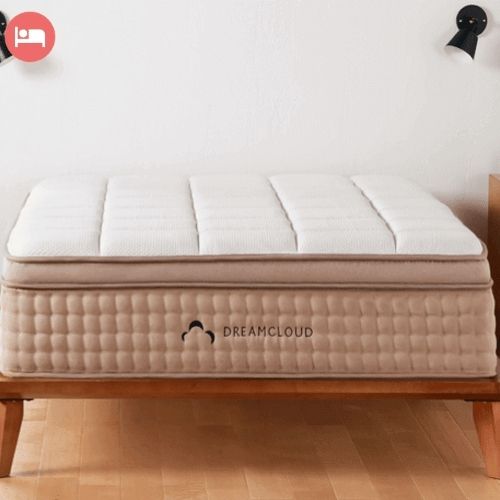 Best Value Mattress
The DreamCloud should perform well for most sleepers. This includes back, stomach, and combination sleepers. The mattress has a thick, soft top layer that will make it a good fit for side sleepers who need extra cushioning at the shoulders and hips. The mattress also is a fit for heavy sleepers who want to avoid sinking into their mattress. For people who share a bed, it's an especially good choice due to its motion isolation.
If you're looking for a mattress that provides an inviting design with above-average comfort and pressure relief, the Dreamcloud is a good option to consider.
The Dreamcloud will provide relaxed sleep for a large swath of sleepers with a medium-sized firm (6) feel. During an initial 365-night sleep trial, consumers have more than ample time to try the mattress out for themselves, and over the longer term, the Dreamcloud comes with a lifetime warranty that provides protections for components and workmanship flaws.
---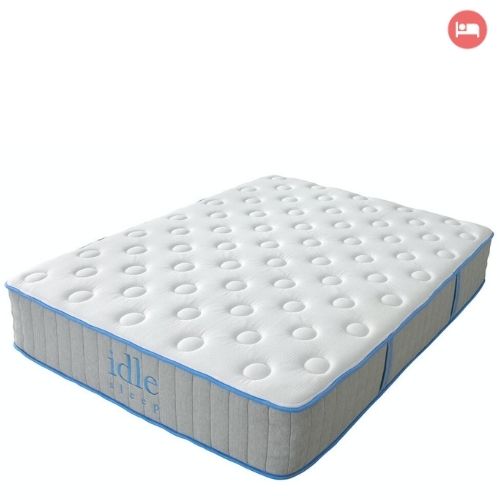 Best Pressure Relief
The Idle Hybrid mattress combines the best features of a hybrid and an innerspring mattress. The top layer is made of adaptive polyfoam that conforms subtly, but not so much that you sink too much when you lie on it. Two layers of denser support foam prolong the comfort layer, so you don't sink very much as you move around during the night. A ninth of an inch of polyfoam shares a core of pocketed coils with the top layer for great stability. The coils also work together to promote airflow throughout the mattress to help keep you cool and ease pressure points.
Idle Hybrid has a clever two sided mattress design that lets you choose whether you want to sleep on the medium firm (6) or firm (8) side. When you choose different firmness levels for each side, you can rotate the bed and preserve its lifespan. In addition, different feels let you switch between medium firm and firm if your preferences fluctuate from night to night.
The 18-month sleep trial of Idle Sleep is one of the longest in the mattress industry, allowing you plenty of time to determine whether to maintain or return the Idle Hybrid. The mattress is also covered by a promise for a lifetime. Standard land delivery on all orders in the contiguous U.S. is free of charge.
---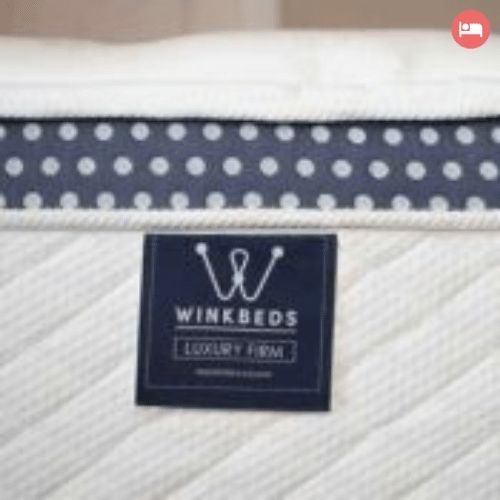 Best Value Mattress
The WinkBed is made from a hyper-dense blend of highly tempered steel coils that is thick and heavy, offering a very firm feel. The spring system consists of a bottom layer of coils that act as a support core and thicker pocketed coils located on the top surface of the mattress. It also uses air flow technology to keep you cool throughout the night.
For people focused on a strong edge support, the WinkBed is worth a serious look. Any mattress that can pass the 300-pound mark in our tests is clearly built to handle more than its share of big sleepers. And while a narrow band of micro-coils and foam at the top does not rank as one of the most supportive zones (which is not surprising on an 11-inch mattress), the bed's entire profile delivers impressively consistent firmness, which bodes well for how it will perform longer term under heavier customers. It also did well on pressure relief and isolation.
The WinkBed mattress is a perfect fit no matter what your sleeping style. Whether you're a side sleeper, back sleeper, stomach sleeper or a combination of all these, you can choose from Medium Soft to Medium Firm and enjoy a WinkBed best suited for your body weight. The WinkBed combines pocketed coils with pressure relieving gel memory foam and hyper-elastic support.
The mattress is available in 3 different firmness levels: Medium Soft (4), Medium Firm (6), and Firm (7). This makes it ideal for back, stomach or combination sleepers who are looking for extra support and pressure relief.
WinkBeds offers a 120-night sleep experience to try out the bed for both models which provides a lifetime warranty.
---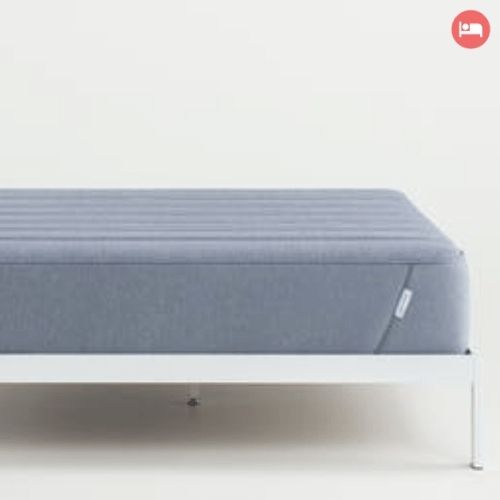 Best For Back Sleeper
The Tuft & Needle Hybrid combines the comfort and support of two very different types of materials: micro-coils and foam. With resilient responsiveness to pressure, the micro-coils are able to actively contour around your body while the Adaptive Foam layer and transition foam provide gentle relief where needed. The Hybrid is engineered for side sleepers, which is why we made it a Medium Feel (5), yet we know people over 130 pounds will appreciate its feel as well.
Tuft & Needle Hybrid is the perfect combination of high-tech materials and well-established support systems. The comfort layers are constructed with our Adaptive Foam, iCoil Fotonic spring system, and transitional polyfoam. Our Adaptive Foam, coupled with our iCoil Fotonic spring system, produces a very pleasant sleep surface that adjusts to your body's unique contours as you change positions throughout the night. On top of these technologies is a layer of transition polyfoam for added cushioning and edge support.
Experience a new level of comfort with the Tuft & Needle Hybrid mattress, now available at West Elm. This two-sided mattress combines an advanced Adaptive Foam™ top layer with pocketed springs and a supportive micro coil core for optimal comfort and support every night.
The mattress comes with a 100-night no-strings-attached sleep trial, and Tuft & Needle, which has won high scores for its consumer service, promises a 10-year warranty covering production and material defects.
---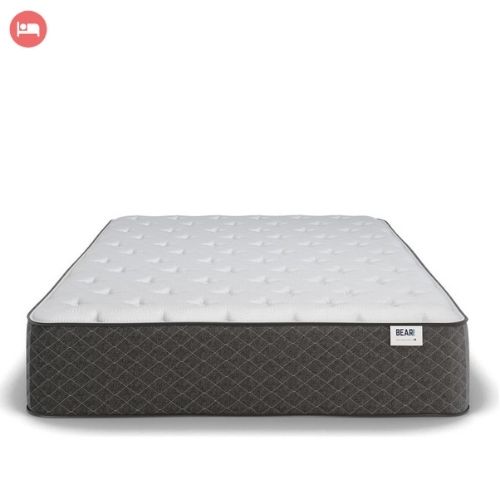 Best Value Mattress
The Bear Hybrid mattress has a cooling cover that uses technology to help you sleep more comfortably. Based on research on infrared light and its role in healing, Celliant can deliver up to five times more infrared energy than cotton or wool. This energy helps muscles recover as you sleep, including helping to relieve lower back pain.
The Bear Hybrid is a supportive mattress that combines the unique features of individually wrapped coil springs supported by gel-infused memory foam layers for stomach and back sleepers interested in optimal support without overheating.
It offers a Medium Firm (6) level of firmness, making it suitable for back and side sleepers. Its supportive innerspring coils, individually wrapped to maximize airflow through the mattress, provide a good balance of pressure relief and support. The top layer of the Bear Hybrid provides body-conforming comfort with a cool-to-the-touch Celliant cover that also promotes deeper sleep through infrared energy. The Bear Hybrid's four layers deliver pressure relief and support while you sleep to help you enjoy returning to bed each night.
Designed with advanced comfort technology, the Bear Hybrid mattress is a luxurious mattress in a box that promotes deep and restful sleep. Using proprietary Celliant fabric, the Bear Hybrid's cover plays an important role in sleeping cool. In turn, the material itself has been backed by scientific studies to help aid muscle recovery during sleep. The unique cover coupled with a gel-infused polyfoam layer provides comfort for both sides of the bed. Individual coils wrapped in stretchable fabric allow extra airflow to keep you cool and promote edge support. Durable construction will provide years of support for this luxury mattress.
During a 100-night sleep test, clients can feel the mattress at home, and insurance from flaws benefits with a 20-year warranty.
---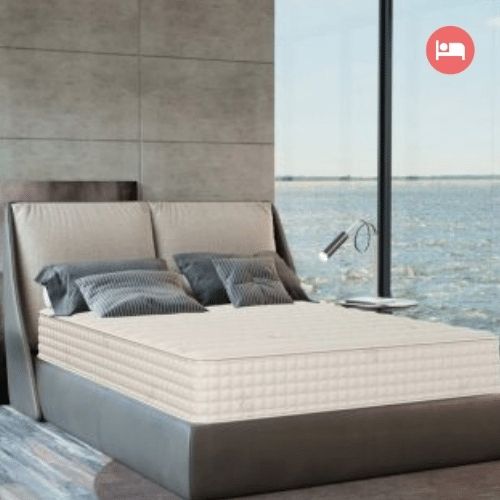 Best Conforming Mattress
Plushbed Latex
Plushbed is an unprecedented mattress that creates responsive comfort for all sleep positions, combining the support of individually wrapped pocket coils with the luxurious support of a plush layer of GOLS certified organic latex and a layer of individually wrapped, pocketed coils. The GOTS certified organic GOLS latex is sourced from European beech trees, grown without pesticide or chemical treatment. It features excellent airflow and pressure relief, key to optimal sleep. Change the way you sleep with this handcrafted in the USA hybrid mattress.
The Luxury Bliss® hybrid latex mattress features a two-layer construction, with organic latex foam and coil-on-coil design that help to provide comfort and support for a more restful slumber. Woven into the base of this mattress is PlushBeds' patented motion isolation technology, which is designed to isolate motion and eliminate partner disturbance. Unlike traditional innerspring mattresses, this mattress will not sag or lose its shape over time.
Premium premium encased coils plus organic latex all in one mattress. The Luxury Bliss® Hybrid Latex Mattress offers the natural comfort and support of latex, as well as the conforming support of coils. This means a better night's sleep for you, no matter how you like to sleep.
Plushbed also provides free delivery in the contiguous US, in addition to pricing the mattress at a very competitive price point. A 100-night sleep trial with no obligatory break-in date, as well as a 25 year guarantee, is sponsored by the mattress.
---
Who Should Buy a Hybrid Mattress?
A hybrid mattress is perfect for combination sleepers and people who need a bed to provide both support and pressure relief. The foam-encased coils inside this Hybrid Mattress from Restonic results in a mid-level firmness that provides back support while preventing excessive sinkage. Enjoy all-night support while still getting relief for pressure points with exceptional comfort. Manufactured in the USA. Years limited warranty.
---
What to Look For in a Hybrid Mattress
Hybrids are an in-between kind of mattress. They are typically firmer than memory foam and latex models, but softer than innerspring mattresses. Hybrids may also be known as a combination mattress, meaning they feature construction with two or more layers of different materials. Because hybrids use at least two different types of foam, sometimes with coils to provide contouring support, they tend to provide some bounce like innerspring mattresses but often absorb motion like memory foam models.
---
How Does it Feel to Sleep on a Hybrid Mattress?
Based on the specifics of how the inner layers are designed, the feel of a hybrid can vary. Nevertheless, some common features help to clarify what sleeping on a hybrid is like.
---
How are Hybrids Constructed?
For a mattress to be a true hybrid, there are two required elements:
A support core made of innerspring coils.
A substantial comfort system above the coils.
Hybrids are a type of mattress that can be constructed of many different types of materials. The two main components consist of a comfort system and support core. At least one of those components must be made of coils in order for the bed to be classified as a hybrid, although there are other materials such as memory foam, polyfoam, fiber, latex, and cotton blended into the cores as well.
Coil Types
A hybrid support core may utilize one of several different types of coils.
---
Memory Foam vs Hybrids vs. Innerspring vs. Latex
As mentioned above, the hybrid is essentially a blend of memory foam and innerspring mattresses. It's best feature is that it's neither one mattress nor another but instead benefits from each type.
| | | | | |
| --- | --- | --- | --- | --- |
| | Memory Foam Mattresses | Hybrids | Innersprings | Latex Mattress |
| Support Core | Polyfoam | Innerspring Coils | Innerspring Coils | Latex |
| Comfort System Profile | Significant | Minimal to Significant | Minimal or None | Significant |
| Comfort System Material | Memory Foam | Memory Foam, Polyfoam, Latex, and/or micro-coils | Fabrics(cotton, Polyster) | Latex |
| Pressure Relief | High | Medium to High | Low | Low to Medium |
| Responsiveness / Ease of Movement | Low | Medium to High | High | High |
| Motion Isolation | High | Medium to High | Low | Medium |
| Temperature Regulation | Low | Medium to High | High | High |
| Durability | 6-8 years or longer | 6-8 years or longer | 5 years | 8 years or longer |
| Price Point | Medium to High | Medium to High | Low | High |
---
How Much Does a Hybrid Mattress Cost?
When it comes to searching for a new mattress, either online or in the 'burbs, it seems almost every day there's a sales pitch touting the low price point of a new product. Just look at the airways–when searching for flights you'll see the same terms used to describe most prices–from $9 to $99 each way. Queen hybrid mattresses cost between $1,200 and $2,000. That said, there are hybrids available, including in our list of top picks, with a retail price below $1,200. In addition, promotions and discounts frequently make even more expensive hybrids accessible at a lower price point.
Because of the various ways that the comfort structure and support center can be installed, hybrids can have a greater price variation than any other styles of mattresses. Factors which may impact the price include:
The cumulative thickness of the device of comfort
In the comfort framework, the form and standard of materials
In the support heart, the thickness and form of coils
The use of niche materials, including organic or sustainably made materials
Extra features intended to facilitate cooling or regeneration of muscles
If the mattress is manufactured in the USA or abroad
---
Density and ILD
The density and ILD of the foam layers in your hybrid vehicle serve an important purpose. Safety is a big concern in hybrids, and these two aspects of the comfort system have a major role to play.
Density
Foam density is a way of describing how heavy and compact the material is. It is determined by weighing a cube of foam that is one foot long on each side, forming a measurement called pounds per cubic foot (PCF).
I've been looking into the Density vs. PCF graph further and have found that there is an easy way to duplicate its results using Hard and Soft foams.
HARD FOAM COMPONENTS: urethane foam – same as polyfoam, but without the gel surface memory.
| | |
| --- | --- |
| Type of Foam | Density Range |
| Memory Foam | 3-5 PCF |
| Twin XL | 39″ x 80″ | 10 | 50 lbs |
| Full | 54″ x 75″ | 10 | 60 lbs |
| Queen | 60″ x 80″ | 10 | 70 lbs |
| King | 76″ x 80″ | 10 | 90 lbs |
| California King | 72″ x 84″ | 10 | 90 lbs |